Head's Welcome
Welcome to King Edward's and I hope that you enjoy visiting our website. I am extremely proud to be Head of this great school, and hope to have the opportunity to welcome you to our school and community.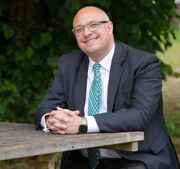 King Edward's is a leading independent day school in Hampshire, with a long and distinguished history, stretching back more than 465 years. Whilst proud of our outstanding academic provision, we are also a community which places every child at the heart of all that we do, seeking to develop in our young people the skills and character strengths to allow them to thrive in the twenty-first century.
The School has long had a reputation for impressive academic results but, while essential for future success, we seek to develop pupils with a wide range of skills and interests. Our goal is to combine the pursuit of academic excellence with a range of opportunities to develop self-confident and independent young people, who have a strong sense of community and will become responsible and reflective future leaders. High quality teaching, a supportive and caring community, and the space to grow and achieve full potential is what we offer at King Edward's.
The School boasts outstanding facilities, including a wonderful new library, theatre, Art Department and Sixth Form Centre; alongside modern, inspiring classrooms. As well as the main site, King Edward's pupils also enjoy the benefits and opportunities presented by our superb sports facilities at Wellington and the School's Rural Studies Centre on Dartmoor. We also embrace technology in our teaching, with pupils using tablet devices to enhance their learning within and beyond the classroom.
Our preparatory school, Stroud School in Romsey, has a friendly, family-feel in a beautiful rural setting and takes pupils into its nursery from age 3.
We hope that you will visit us to see for yourselves. Why not visit us on a normal school day and have a personal tour.
Further information about the School may be found on our social media feeds, via Instagram, Facebook, and Twitter.
Neal Parker
Head