Creative Arts
Dance, Music, Art and Drama are our Creative Arts
Opportunities abound for pupils to pursue creative interests both within the curriculum and through the extensive co-curricular programme. Superb facilities supported by expert tuition provide the backbone for excellence within which pupils' individual talents are nurtured and challenged.
More information for each area of the Creative Arts at King Edward's can be found below.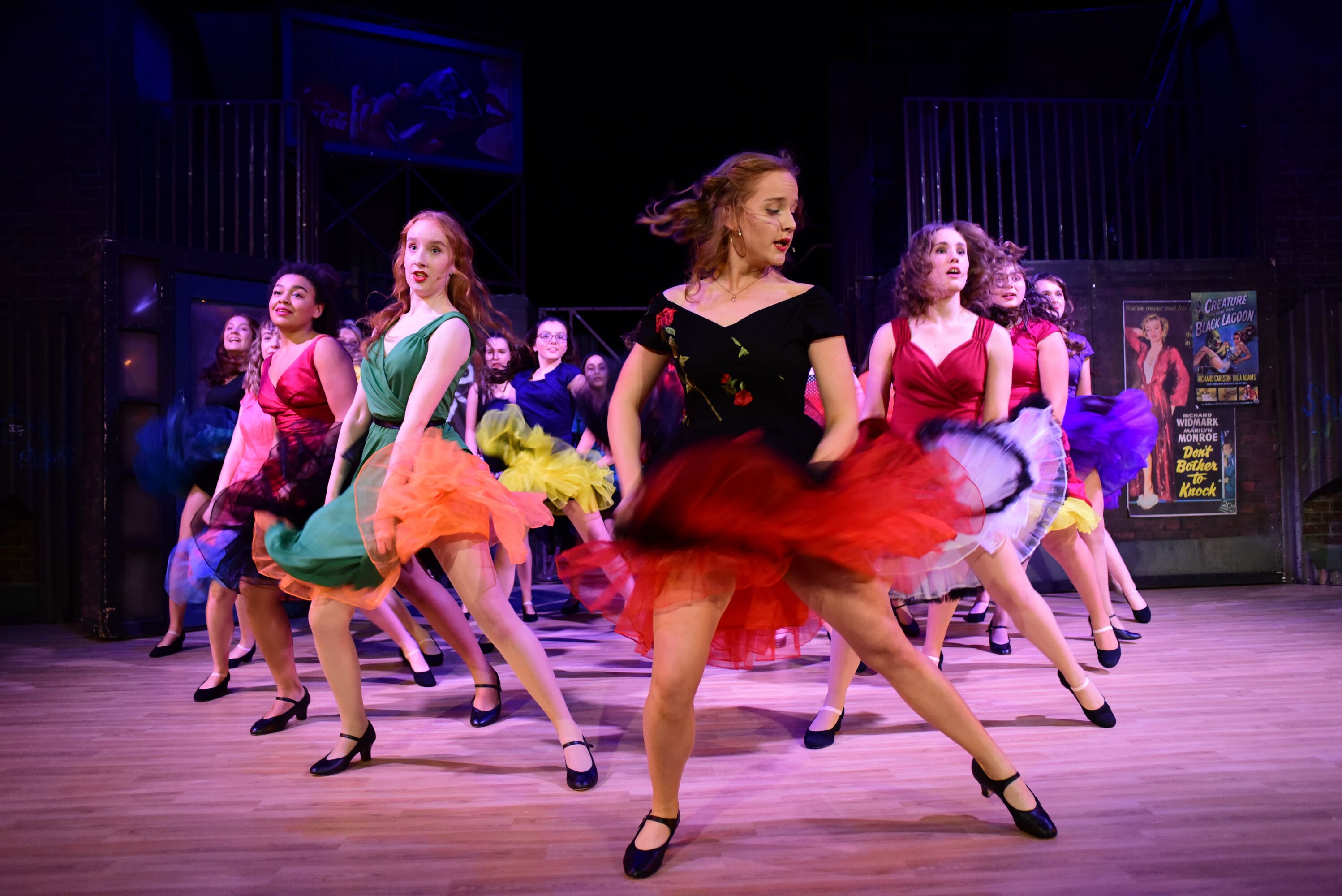 Students from all year groups perform various productions across the school year.
Dance
King Edward's has a vibrant and expanding department that aims to celebrate the many dance styles our students have passion for. We aim to promote inclusivity by offering opportunity to all abilities in a fun and welcoming environment.
The co-curricular programme for dance is continuously evolving depending on the interests of our pupils. Currently, our Ballet Club and General Dance Club welcomes all abilities from beginners through to advanced dancers.
Dancers are provided throughout the year with opportunities to perform in assemblies, Thanks Giving services at Winchester Cathedral and in concerts. Dance is also a valuable discipline in our whole school musicals, and students have performed in productions of Beauty & The Beast and West Side Story.
The Dance calendar is highlighted by our annual Dance Gala; an evening of glitz and eclectic styles in our Dobson Theatre. Performers of all abilities and styles are invited to perform and the evening is a joyous and colourful celebration of talent and expression. Our biannual Arts Festival also provides an exciting programme to stimulate and develop our dancers' talents.
Throughout the year we host varying workshops with companies such as Birmingham Royal Ballet, Matthew Bourne's New Adventures, Northern Ballet, English National Ballet, and with industry professionals from the West End and film industry (Layton Williams, Omari Bernard, Leon Cooke). In these opportunities, our dancers are given valuable insight into a career in Dance by seeing where their talent and passion could take them professionally.
Drama
The Dramatic Arts are truly valued at KES. The productions are popular and are performed at a very high standard all productions are auditioned in front of a casting panel.
There are also opportunities for lunchtime drama clubs. The weekly Lower School Junior Drama Club is non-auditioned but numbers are limited to 30 students, a waiting list policy is used. The Advanced Theatre Club is for our Gifted and Talented students and is by invitation.
There are professional workshops for GCSE and A Level students to attend. We have previously worked with GECKO, Frantic Assembly and Splendid Theatre Companies as well as having links with both the Nuffield and Mayflower Theatres.
Theatre Trips are in place for both Lower School and Upper School, with further Theatre Trips provided to support GCSE and A Level curriculum. The drama facilities at KES are fantastic with a 300-seat auditorium, a black box studio and two rehearsal rooms.
We have a whole school drama competition called the Eddies, which runs in the summer term on alternate years to the KES Arts Festival.
The Drama department have an ethos of continuing development and research into the latest professional developments in theatre to ensure the latest innovations and creative thinking is brought to our students.
All productions are age appropriate to those involved. Three to four productions are produced a year.
Music
Our co-curricular programme is rich and varied with many ensembles to enjoy.
We have three orchestra, three choirs, swing band, big band, soul band, rock academy, recorder consort and large number of chamber music groups. Many of our young musicians perform with county and national level ensembles. There are many opportunities for students to perform in concerts at school and in the wider community and there are regular trips abroad.
There are many opportunities for students to perform in concerts at school, in the wider community and on tour abroad. Regular trips to concerts and operas are arranged and professional musicians are invited in to the department to lead a range of workshops and master classes. Recent activities have included playing alongside the London Mozart Players and a trip to New York for a tour of the Juilliard School and performances at the MET, Carnegie Hall, Village Vanguard Jazz Club and the Broadway Theatre for a performance of Miss Saigon.
450 students have one to one tuition at school, provided by a team of 30 visiting music teachers. Lessons are offered in all orchestral instruments, voice, kit percussion, classical and jazz piano, acoustic and electric guitar. The School is a centre for ABRSM music examinations.
Art
The Art Department is a busy one at King Edward's. Students are able to enjoy Art through clubs such as Architecture Society, Character Design Club and Life-Drawing.
Our purpose-built studios are designed to facilitate an open and interactive learning environment, operating an 'open door' policy throughout the school day. The department comprises of:
Painting Studio
A dedicated art computer suite, running Adobe Suite
Printing Studio
Sixth Form Studio
Kiln Room
Office/ Subject Library containing over 3,000 titles
Darkroom for processing and printing 35mm and 120mm formats